Get These Spooky Best Sellers Before They Ghost!
The 1996 release of "Scream" marks the revival of the horror genre! The scary Scarecrow Ghostface use a combination eco-friendly and durable material, it's lightweight to float in the breeze which is very suitable for outdoor decoration.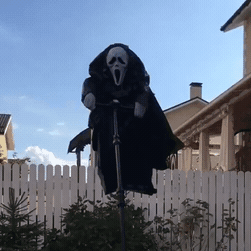 • A very attractive decoration for Halloween! The rope above the head can be fixed on the wall, on the door, on the window, on the tree, and so on.
• The Scarecrow Ghostface decoration is suitable for decoration in the garden; yard; tree; patio; lawn and so on.

Size: 70*40 cm
Support Bar Length: 200cm
Product Include: 1* Ghostface Scarecrow Decoration